London bus drivers consider strike over pay dispute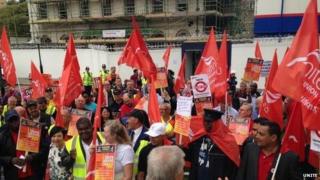 London bus drivers have said they are willing to take strike action to end the "glaringly unfair" pay disparities among the capital's bus companies.
Members of Unite want an end to salary differences between employers that can see pay differ from £17,000 to £25,000.
Unite said the discrepancy was due to 17 bus companies who all operated services in the city but had different deals with Transport for London (TfL).
TfL has urged the union and bus companies to work together.
In a consultative ballot, 96% of approximately 7,200 drivers voted in favour of taking strike action. There are about 24,500 bus drivers in London.
The union said a formal industrial action ballot would be held if the bus companies refused to establish a collective negotiating forum that covered pay and conditions for all drivers.
It said that in contrast to Tube drivers, there was no single collective deal for bus drivers in London, with pay negotiated on a company-by-company basis.
Starting rates vary from £9.30 to £11.46 an hour, said the union.
In September, hundreds of London's bus drivers took part in a protest march to demand collective bargaining.
Wayne King, London regional officer for Unite, said: "It's time that London's bus operators dropped their opposition to a collective negotiating forum that begins to harmonise the terms and conditions of the capital's bus drivers."
In a statement, TfL said: "Bus drivers are employed by private companies and their pay and conditions are a matter for those companies and the union to discuss.
"We would urge the parties involved not to subject bus passengers to unnecessary disruption."
The individual companies have not yet commented on the dispute.