Burning bus explodes in south London street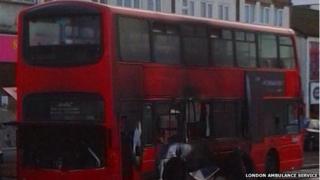 A burning London bus showered a south London street in debris after its tyres are thought to have exploded in the fierce heat.
The blaze happened at the junction of Stafford Road and Sandy Lane in Wallington, at 14:00 GMT on Tuesday.
The driver of the 157 pulled over to the side of the road and got passengers off as smoke came from the back.
London Ambulance service treated one person for shock. The cause of the fire is not thought to be suspicious.
"There was an explosion on the bus which threw debris from the bus across the road," a police spokesman said.
'Tyre bursting'
Transport for London said: "There was substantial damage to the bus including the tyres which may have been the cause of the small bang people heard."
The bus company Abellio added: "Initial investigations appear to indicate that the incident was caused by the offside rear brake seizing. This then resulted in the tyre catching fire and subsequently bursting".
Firefighters were called after smoke began coming from the back.
"As it was during a strike by fire brigade workers, two contingency crews were sent out," London Fire Brigade (LFB) said in a statement.
"The bus was evacuated and LFB left the scene at about 15:10 GMT."