London Underground Tube and bus weekly journey record set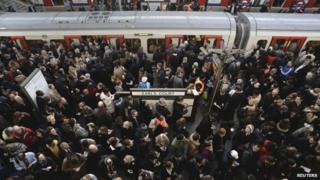 A new record for the highest number of London bus and Tube passenger journeys taken in a week has been set.
In the week beginning 22 September, a total of 76.1 million passenger journeys were made, Transport for London (TfL) has announced.
This was made up of 50 million bus journeys and 26.1 million Tube trips.
The combined total beat the previous record set in the week beginning 9 December last year when travellers went to see the Christmas lights.
TfL thinks another record could be set at Christmas this year.
The Tube has an average of 24.3 million passenger journeys a week while the buses have an average of 46.2 million.
'Breaking point'
Demand for public transport is predicted to increase by 60% on the Underground and 80% on the national rail network by 2050, compared with current levels.
Mick Cash, general secretary of transport union the RMT, said: "These figures show that more and more pressure is being piled on to the Tube and the rest of London's transport services against a background of cuts that will make it impossible for the system to cope as it is dragged towards breaking point.
"To cope with the stunning success of the Underground we need more staff, more investment and a reversal of the cuts."
London's Transport Commissioner Sir Peter Hendy said: "Thanks to vital investment and a programme of modernisation we've seen delays cut and more frequent and reliable trains and buses.
"However, we have to keep looking towards the future, and continue the investment, to ensure our transport network keeps pace with the growing number of people who need it."