Imperial War Museum library closure petition launched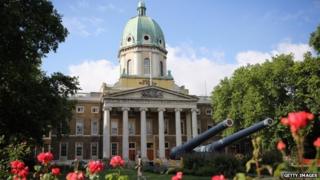 Plans to close the Imperial War Museum (IWM) library have been opposed in a petition signed by 1,500 people.
The Prospect union said a £4m cut in annual government funding left the institution facing the closure of the library and the loss of 80 jobs.
An IWM spokesman said the plans were in response to the need to "reduce costs" and "respond to challenges and opportunities".
The decision comes as the museum marks the centenary of World War One.
Museum relaunched
"Closing IWM's library is not a fitting way to mark the centenary of the outbreak of the First World War" said Prospect negotiator Andy Bye.
"IWM aspires to be a highly respected authority on its subject matter, but this will be impossible without a library."
The library acquired its first item in 1917, and as well as helping members of staff help curate exhibitions, it provides members of the public with access to research material.
The petition asks the chancellor and culture secretary to "urgently reverse current and future cuts to the Imperial War Museum's annual operating grant in aid".
A museum spokesman said "The change programme seeks to ensure IWM can continue to respond to challenges and opportunities, build on our successes to date, improve and update ways of working across the organisation."
The proposal also recommends the closure of the Explore History facility, which allows the public to find out about objects not on display, and attracted 55,000 visitors in 2013.
The museum reopened in July after a £40m refurbishment which included a new atrium made up of four levels divided into different clusters, which include more than 400 objects and artworks.