Tower Bridge unveils glass walkway above River Thames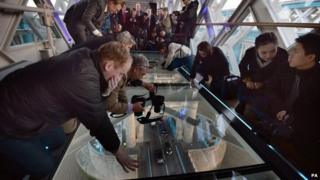 A glass walkway which gives visitors a bird's eye view of traffic has been unveiled at London's Tower Bridge.
Tourists can test their head for heights by venturing on to the structure which soars 42m (138ft) above the Thames.
The £1m walkway is 11m long and gives visitors a unique viewpoint of the world-famous bridge lifting, as well as the traffic and boats below.
The West Walkway was unveiled with the East Walkway opening next month.
Christopher Earlie, the business and marketing manager from the bridge, said: "The opening of Tower Bridge marked the dawn of a legendary feat of engineering creating what is considered by many as the most famous bridge in the world.
"For the first time ever, visitors will be able to experience a never-seen-before viewpoint of London - the Thames, road and pedestrian life, all moving at pace 42 metres below."
This year marks Tower Bridge's 120th birthday, following its opening on 30 June 1894 by the Prince of Wales, who was later crowned King Edward VII.