Walthamstow Granada cinema sold by church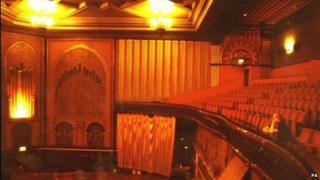 A former cinema owned by a church group in east London has been bought by a firm planning to reinstate it as an entertainment venue.
Last year plans to make the Walthamstow building a place of worship were turned down by the secretary of state.
The Universal Church of the Kingdom of God (UCKG) has now sold the Grade II listed venue to pub company Antic.
Soho Theatre said it had met with the new owner with a view to bringing it back as a cultural centre.
'Long-held desire'
The building in Hoe Street opened as The Granada in 1930 and dates back to 1887. It has also been a music venue and hosted concerts by The Rolling Stones and The Beatles.
Contracts were exchanged last Monday following an unsolicited approach, the Brazilian evangelical church confirmed.
Paul Hill from the UCKG said it amounted to a "pragmatic solution that should satisfy all concerned", adding that the new buyer wants to "reinstate the building as a mixed entertainment venue".
The church group bought the building in 2003 and it has been empty ever since following unsuccessful planning applications.
Mr Hill said another suitable building would be sought to open a UCKG help centre.
A long-running campaign has called for the building to be restored to a functioning cinema.
Stella Creasy, Labour MP for Walthamstow, said she had spoken with Antic "to ensure they are aware of the high public interest in Walthamstow in this building and our long-held desire for it to be an entertainment venue".
Soho Theatre and Waltham Forest Cinema Trust said in a statement that an initial meeting with the new owners was "positive and productive".
The cinema trust said it hoped the venue could run alongside Soho Theatre's community and education work in the borough.
Antic, which runs more than 30 pubs in London, declined to comment.
Last year, the Department for Communities and Local Government said the church's plans for a "miniplex" and pastor's accommodation did not represent "the optimum viable use for the building."