Tower of London poppies: Volunteers remove ceramic flowers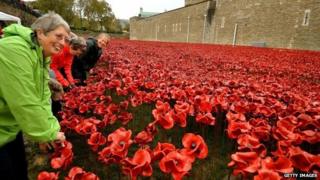 Volunteers have started removing the ceramic poppies from the moat of the Tower of London.
The first one of the 888,246 hand-made poppies was planted in July, while the last was put in place by 13-year-old cadet Harry Hayes on Tuesday.
Each poppy represents the death of a British and Commonwealth soldier during World War One.
About 17,500 volunteers have planted poppies while a team of about 8,000 volunteers will dismantle them.
The poppies will be removed throughout the day over the course of a couple of weeks, said a spokeswoman for Historic Royal Palaces.
The weeping window and wave segments of the installation will be the final sections to be removed and will be on show until the end of the month.
Thousands of the poppies will then go on tour before being permanently based at the Imperial War Museums in London and Manchester.
It is thought about five million people have visited the artwork entitled Blood-Swept Lands and Seas of Red.
Huge demand from the public sparked a campaign to keep the installation in place for longer but the artist, Paul Cummins, said he never intended the installation to be permanent as it was meant to symbolise that human beings were "transient".
The Royal British Legion said it hoped the sale of the poppies - sold for £25 each - would raise in excess of £15m.
---
World War One Centenary
---