Harry Roberts: Police killer released from prison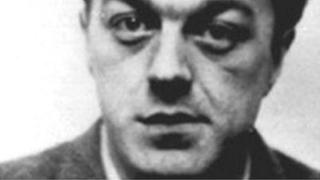 Notorious police killer Harry Roberts has been released from prison.
Roberts, now 78, was jailed for life for murdering three unarmed officers in Shepherd's Bush, west London, in 1966.
Met Police Federation chairman John Tully called his release "sickening", and victims' relatives have previously condemned plans to release him.
Roberts was released from Littlehey Prison in Cambridgeshire on Tuesday. It is thought that he will now be closely monitored.
The police officers were shot when they approached a van containing Roberts and two other gang members, John Duddy and John Witney, following an armed robbery.
Sgt Christopher Head, 30, and 25-year-old Det Con David Wombwell were shot by Roberts, while PC Geoffrey Fox, 41, was killed by Duddy.
The gang had been been sitting in the van near Wormwood Scrubs prison when the policemen approached to ask questions.
Roberts was convicted of murder in relation to all three deaths. He was given a 30-year minimum sentence and served 48 years.
---
Analysis
By Danny Shaw, BBC home affairs correspondent
The release of Harry Roberts presents unprecedented challenges for the authorities charged with monitoring him.
I can't recall anyone else who has been freed after spending so long in prison - in Roberts's case, 48 years.
His first months are likely to be spent under close supervision in a hostel for released prisoners and offenders on bail, known as an "approved premises".
He will be required to stay in close touch with probation officers and, in the early days at least, he'll be advised to keep his trips out of the hostel simple and to avoid crowded areas.
It is thought the authorities considered giving Roberts a new identity, for his own protection, but decided against it.
Perhaps they were worried there would be a public backlash over a perception that one of Britain's most notorious killers was being given special treatment.
---
The Ministry of Justice said it did not comment on individual cases, but said there were "public protection arrangements" in place to manage released prisoners.
"Offenders on life sentences are subject to strict controls for as long as their risk requires them," a spokesman said.
"If they fail to comply with these conditions they can be immediately returned to prison."
When asked about the case, Lord Thomas, Lord Chief Justice of England and Wales, said a legal structure was in place and "we have to respect it entirely".
He said it was for judges to pass sentence then for the Parole Board to "assess risk" when considering whether to release a prisoner.
Steve White, chairman of the Police Federation of England and Wales, which represents officers, told BBC Radio 5 live: "Police officers up and down the country will be absolutely furious and disgusted that Harry Roberts has been released."
He said he had written to Home Secretary Theresa May asking her to keep her promise to impose whole-of-life sentences on people who kill police officers - though legislation currently going through Parliament will not apply to criminals who have already been sentenced.
Reacting last month to news Roberts was to be released, Mandy Fox, daughter of PC Fox, branded the decision a "disgrace".
Gillian Wombwell, widow of Det Con Wombwell, said: "Our sentence is for life and so should his be."
Roberts was on the run for 90 days after the murders, using his Army jungle training to camp out in Hertfordshire, where he was eventually arrested.
Witney and Duddy were both given life sentences. Witney was released on licence in 1991 after serving nearly 25 years, but was found murdered in Bristol eight years later. Duddy has also died.