Old Street roundabout could become public square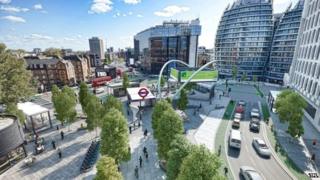 Old Street Roundabout in east London could be transformed into a pedestrian square in plans to overhaul the area.
As part of a £4bn scheme, some segregated cycle lanes have been included which Transport for London (TfL) hope will improve safety.
About 40 pedestrians or cyclists were injured at the roundabout between February 2010 and January 2013, according to TfL.
Campaigners have said that more work needed to be done on approach roads.
The plans show that to create the public space, the north-western "arm" would be closed between the west side of Old Street and the north side of City Road.
This would also create a new entrance to Old Street station.
Cyclists make up almost a third of all the vehicles at the roundabout in the morning rush hour and new cycle lanes - segregated where possible - along with separate cycle signals, will be created through the junction for cyclists.
TfL said some traffic routes would be affected, but that a wider traffic management plan for central and inner London is currently being developed.
This includes providing updated information to satellite navigation companies so that devices can incorporate the changed routes through the area.
The Mayor of London, Boris Johnson, said: "We are progressing at full steam with our plans to redesign some of London's most dangerous junctions, and Old Street roundabout is next to be completely overhauled.
"These plans will dramatically improve safety for the thousands of cyclists and pedestrians using the junction, and also make it easier to access Tech City, which continues to nurture upcoming technology and creative talent from around the world."
Cycling blogger, Hackney Cyclist, tweeted that there was still no space for cycling on Old Street itself despite it having a "huge" pavement.
The consultation closes on 11 January.