Buyer found for New Scotland Yard, Met confirms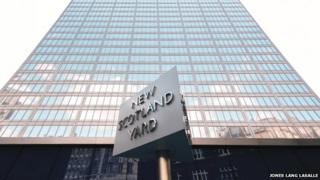 A buyer has been found for New Scotland Yard, the headquarters of the Metropolitan Police, London's deputy mayor for police and crime has said.
Stephen Greenhalgh said the proceeds of the sale would be reinvested in frontline policing.
The office block near Victoria station has housed the Met since 1967, but is being sold off as part of a cost-cutting effort.
The force's new HQ will be the Curtis Green building on Victoria Embankment.
The mayor's office said a "preferred purchaser" had been nominated but further details including the price would be announced in December.
'Bobbies before buildings'
Up to 200 police buildings are due to be sold by 2016, with £124.5m already raised.
Mr Greenhalgh said: "Londoners support our plans to put bobbies before buildings and all the proceeds of this sale will be reinvested in frontline policing.
"Over the coming months, we will be able to share these investment plans with Londoners, but I'm confident that today's sale represents the best deal for London."
The Mayor's Office for Policing And Crime said further details would be available once contracts have been exchanged.
The operational HQ of the Met will relocate to the refurbished Curtis Green Building on Victoria Embankment, which has been empty since late 2011.
The force expects to reduce its annual running costs by £60m once the moves are completed in two years' time.
Its new headquarters will house 1,000 officers and staff compared to the 2,500 currently working at New Scotland Yard, with the remaining 1,500 relocated to other Met buildings in the capital.
The Mayor's Office for Policing and Crime said New Scotland Yard had a guide price of £250m.
Some of the proceeds will be used to buy new hi-tech equipment such as body-worn cameras, secure tablets and smartphones for officers.
It shifted from from Whitehall Place to Great Scotland Yard in 1875 and to the Norman Shaw building in 1890, before establishing its base in the current building in the 1960s.