Tower Hamlets: Ken Livingstone urges assessor protest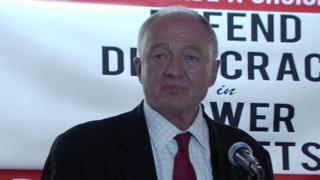 Ken Livingstone has been criticised after he encouraged people to make the lives of a government assessors "intolerable".
Last week, the government announced it would send in commissioners to Tower Hamlets Council to oversee how it handed out grants and sold property.
The ex-mayor said people should protest outside the commissioners' homes.
The Conservatives said the comments showed the "levels of intimidation that had scarred politics in the area".
Mr Livingstone was speaking at a rally held on Wednesday night in Mile End, east London, in support of under-fire mayor Lutfur Rahman.
Respect MP George Galloway also spoke in support of the mayor.
The rally was held in response to a critical report that found there was a "culture of cronyism" at the council.
To a crowd of about 1,000 people, Mr Livingstone said the commissioners should be "ashamed of themselves" if they take the job.
He added: "When these commissioners turn up, find out where they live and then have a peaceful demonstration outside their homes so their neighbours know that these are the type of people that turn out and overturn a democratically elected mayor.
"Make their lives intolerable. Fight them, expose them, make sure everybody knows what they're doing."
Commissioners have not yet been appointed and the council has until next week to respond.
Labour has said Mr Livingstone's views are not representative of the party.
Peter Golds, Conservative group leader on the council, said he found Mr Livingstone's comments "absolutely deplorable" and "an incitement to intimidation which surely is not acceptable nowadays".
He added: "This investigation is about probity - the commissioners are there to ensure that the council will be run properly and, far from scaring them off, I wish for them to do their job properly in accordance with the law.
"I think that what we saw last night shows the levels of intimidation that has sadly scarred politics in the Tower Hamlets area.
"I just hope that people will have seen that and see what this administration is actually all about."