Scotland Yard gun amnesty: Nearly 70 guns and ammunition handed in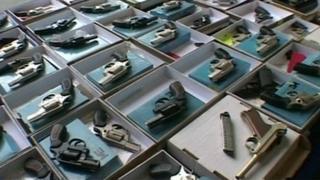 Nearly 70 firearms and 1,000 rounds of ammunition have been handed in to police during the first five days of a gun amnesty in London.
Scotland Yard launched the drive on Monday, enabling people to hand in weapons without fear of prosecution.
The amnesty, which runs until 23 November, means firearms and ammunition can be surrendered anonymously at police stations.
Each weapon will be examined for criminal evidence.
The force said it was particularly looking to stop antique guns falling into the hands of gangs.
Rules for buying working antique guns were tightened in July, preventing convicts from buying or owning them, and soon dealers will be required to keep computerised records for at least 20 years.
The Met has released a map of police stations where weapons can be handed in.