Tower of London poppies 'targeted by thieves'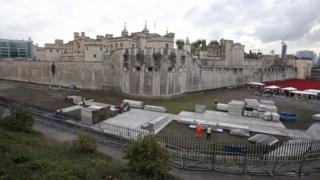 The task of removing 888,246 ceramics poppies at the Tower of London has been dogged by attempted thefts, the artist behind the installation has said.
Ceramic artist Paul Cummins said people have tried to break into lorries containing the poppies.
Mr Cummins said thieves had been targeting the poppies ever since they were installed.
But, a Historic Royal Palaces spokeswoman said: "An attempt was made to break into empty vehicles."
The last poppy of the Blood-Swept Lands and Seas of Red is scheduled to be removed on 28 November.
'Disrespectful to the dead'
Mr Cummins, a Derbyshire-based artist, said: "When they were taken out of the moat, people were breaking into the lorries to try and get them... they have been trying to do this ever since we put them in.
A Historic Royal Palaces spokeswoman said: "All appropriate security measures have been in place throughout the project to ensure the safe delivery of the poppies to their new owners."
"An attempt was made to break into empty vehicles at a rest stop on their way to London. A number of other vehicles at the rest stop were targeted in the same way."
While he accepted people want the poppies, Mr Cummins said no more will be made.
"I thought it would be disrespectful to the people who died - [but I know] there are hundreds of thousands of people who want them," he added.
Volunteers have been removing around 75,000 poppies per day from the moat since 12 November.
With regard to theft attempts, Mr Cummins said: "I am not happy. It is disrespectful to the people who bought them and made them and to the people they represent."
Poppies are being prepared to be posted to members of the public who purchased them for £25 each.
The proceeds are being shared between six service charities, including Help for Heroes and the Royal British Legion.