Recycling drops in 16 London boroughs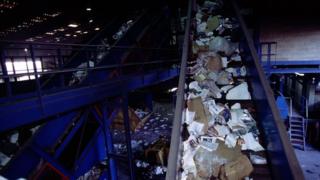 Almost half of London boroughs are recycling less domestic waste, latest figures show.
Sixteen of thirty-three London boroughs have seen a drop in the amount of waste being recycled in 2013-14 compared to 2012-13.
Newham is the worst performer, dropping 3.4% year on year. Havering, Wandsworth, Richmond and Lewisham make up the five worst performers.
London Councils cited shared housing as a reason for the fall in recycling.
Harrow, Haringey and Southwark topped the table, averaging 4.2% increases.
The data, which relates to domestic recycling, shows London only averaging 33.99% compared to 34.11% the previous year - a drop of 0.12%.
However, the figures do not include business related waste, or street recycling banks.
'Levelling off'
The mayor's energy and environment adviser Matthew Pencharz said: "Although the mayor's office does not have direct responsibility for collecting waste, we are concerned by the levelling off of recycling rates."
The government-issued figures which are calculated as a percentage of weight in tonnes, come as a blow to the mayor's target of 50% of waste being recycled across the capital by 2020.
Responding to the data, London Assembly member for the Green party Jenny Jones said: "Boris Johnson must wake up to flat-lining and falling recycling rates during his mayoralty.
"The situation is likely to worsen if the massive new incinerator, which the mayor backed, goes ahead in Sutton."
But London Councils, which represents all of the city's local authorities, said the fall was because "London is unique among urban areas and a number of factors put pressure on collection and recycling services."
It said: "Half of London's residents live in flats, and many others in shared houses, which makes recycling more challenging."
"Overall recycling rates for local authority collected waste - which includes material collected from recycling centres - increased by 17,162 tonnes from 2012-13 to 2013-14."