Nine led to safety during Marylebone house fire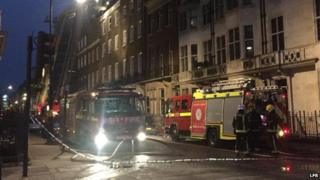 Nine people were led to safety as more than 70 firefighters tackled a house fire in central London overnight.
London Fire Brigade (LFB) was called to the five-storey terraced house in Wimpole Street, Marylebone at 01.27 GMT.
Three people were checked for smoke inhalation but did not require hospital treatment. No-one was injured.
LFB said the fire was under control by 05:55 GMT and an investigation into its cause had begun.
Station manager Jim Morford said: "Firefighters worked hard through the night to stop it from spreading to neighbouring properties.
"Nine people were led to safety and the buildings on either side of the affected house were evacuated as a precaution."