Jimmy Mubenga guard denies hearing him say 'I can't breathe'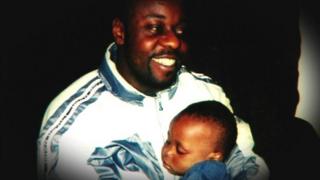 A G4S guard has denied hearing a deportee shout "I can't breathe" in the minutes before he collapsed after being restrained aboard a plane.
Terrence Hughes, 53, said he was forced to take action to control Jimmy Mubenga after he became upset at leaving behind his wife and children in the UK.
Mr Mubenga, 46, died later in hospital.
Mr Hughes, from Hampshire, Colin Kaler, 51, from Bedfordshire, and Stuart Tribelnig, 38, from Surrey, deny his manslaughter.
Mr Hughes and the two other guards allegedly disregarded their duty of care by assuming the Angolan married father was feigning illness as the flight prepared to take off from Heathrow Airport on the evening of 12 October 2010.
Mr Hughes, a former Navy serviceman, said Mr Mubenga had seemed relaxed up until the point when he went to the toilet and made a series of phone calls after boarding the British Airways 777 flight.
He emerged "shouting and screaming that he did not want to go back" and saying "they're killing me" in a bid to get attention from passengers, he said.
The three guards restrained Mr Mubenga in the aisle and handcuffed his hands behind his back so they could get him into his seat with a guard on either side and one in front, the court heard.
Asked to describe what followed in the next 36 minutes before the alarm was raised by cabin crew, Mr Hughes said: "He was trying to head butt myself, head butt Colin, head butt the chair in front of him.
"He was trying to get out of his seat, thrashing around from left to right, then calmed down for a few minutes, have a look at a few passengers and then he would start thrashing again trying to get out of his seat. He bit my arm - it was only a nip."
'Very appropriate'
Asked what he did in response, Mr Hughes answered: "I cannot remember the exact words, I would be telling him to 'calm down, accept what's happening, you are flying tonight whatever happens, the crew knows you are flying, the passengers know you are flying, no-one's taking any notice'."
Defence lawyer Orlando Pownall QC quizzed Mr Hughes on the evidence of other passengers who said they heard Mr Mubenga complain: "I can't breathe".
The defendant said he could not remember hearing the words but that did not mean that they were never said.
He also denied hearing or saying the response "If you can talk, you can breathe", although he said that would have been in his mind at the time.
Mr Pownall asked: "How appropriate did you consider what you were doing?"
Mr Hughes, who is originally from North Shields, replied: "I considered it very appropriate."
Earlier, the court heard how Mr Hughes had been involved in 800 deportations as a guard and had worked for G4S since 2008.
He was given annual refresher courses on control and restraint under Prison Service guidelines which included the risks of asphyxia.
The defence lawyer asked if it was easy to tell the difference between a genuine medical emergency and one that was false.
The defendant said it was "extremely difficult," adding that he once lost two teeth from being head butted by a Nigerian man who appeared to collapse in his seat on a previous Virgin flight.
The trial was adjourned until Tuesday.