Claridge's says it welcomes breastfeeding after 'shroud' tweet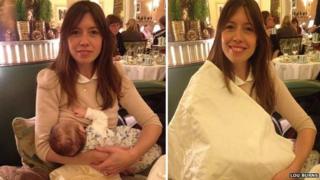 A luxury Mayfair hotel has said breastfeeding mothers are welcome after a woman said she was asked to cover up while feeding her baby at tea.
Louise Burns tweeted: "Asked to cover up with this ridiculous shroud while breastfeeding so not to cause offence at Claridge's."
A spokeswoman said it asks "mothers are discreet towards other guests."
The 2010 Equality Act makes it unlawful for a business to discriminate against a breastfeeding woman.
Ms Burns tweeted a picture of her without the napkin and with one adding: "SO much more obvious with it than without! Such a shame I can never go back..."
A Claridge's spokeswoman said: "We are saddened to see what is being discussed and we feel we need to clarify that breastfeeding is of course embraced at Claridge's.
"All we ask is that mothers are discreet towards other guests."