Boris Johnson 'calms drunk passenger' on Heathrow flight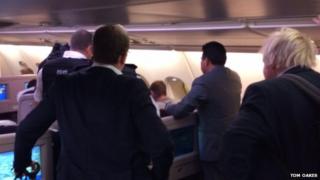 London mayor Boris Johnson attempted to calm down a "drunk" passenger on a flight from Kuala Lumpur to Heathrow.
The 43-year-old man was allegedly ranting and racially abusing staff on the Malaysia Airlines flight.
A witness said after several attempts to calm him down, six cabin staff handcuffed him, tied his legs and then strapped him in his seat.
After he continued to shout, the mayor warned him he would be arrested when the plane landed in London.
'Off his head'
Mr Johnson had been posing for pictures with fellow passengers, including the man who was later restrained.
Eileen Burbidge, who was a member of Mr Johnson's trade party on his Far East trip, tweeted: "So impressed with MH2 cabin crew (Kuala Lumpur-LHR); amazing professionalism/handling of passenger who was off his head."
Passenger Tom Oakes said the man was "racially abusing staff, clearly drunk and demanding more drinks."
Mr Oakes said: "The crew took him down the plane and spent an hour or so calming him down.
"He returned to his seat and the whole cabin were nervous. He started ranting.
"They warned him three times and yet he was aggressive... At this point 6 crew pinned him down, cuffed him, tied his legs and strapped him in a seat.
"The man calmed down and started to sober up. However he was still belligerent and at one point rolled down the aisle with his hands in cuffs.
"The mayor laughed the incident off and congratulated the crew for their work, which was excellent."
At Heathrow the passenger was taken off the plane by six police officers.
A Met Police spokesman said the man was arrested on suspicion of being drunk on board an aircraft and common assault.
"He was taken to a west London police station where he remains in custody," the spokesman added.
The mayor was on his way back to the UK following a six-day trip to the Far East promoting bilateral trade and investment.
A spokesman for Mr Johnson said: 'The mayor along with a number of other passengers and members of the cabin crew did make several attempts to calm the gentleman concerned but to no avail.
"We understand the gentleman was restrained by the crew and detained by police on arrival at Heathrow."