Autistic boy stabbed in neck in Pimlico scared to go out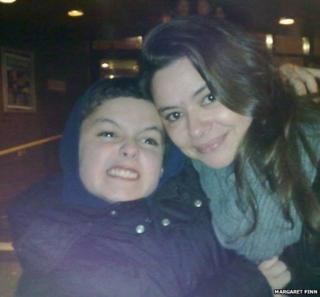 The mother of an autistic boy who was stabbed in the street has said the attack has cost him his independence.
Eamonn Finn, 16, was knifed in central London while on his way to a youth club for children with disabilities and learning difficulties.
His mother Margaret, said it had taken two years to get her son to the point where he walked independently.
Police have released CCTV images of the attack in Pimlico from 4 June to try and trace the suspects.
'Immediately aggressive'
Eamonn was slashed across the neck with an unknown weapon after being approached by three males and chased along Regency Street, to close to the junction with Causton Street.
Ms Finn said she and Eamonn had been on a bus together minutes before, but when it got stuck in traffic they decided he should walk the rest of the way on his own as it was "broad daylight".
Referring to the youths, Ms Finn said Eamonn "glanced at them and they became immediately aggressive and confrontational towards him".
"Eamonn got frightened because one of them made to lunge towards him so that made him run. They chased him and he said he got to a point where he couldn't get his breath," she told BBC London 94.9.
"It was when he stopped that one of them stabbed him in the neck and just walked off.
"He tried to make his way home to me because he got scared when he saw all the blood."
He was discovered minutes later by a police officer on his beat.
Ms Finn described her son as "lots of fun", someone who overcomes his challenges and is "an unassuming young lad who has a good heart", but the stabbing had set him back.
'Sheer luck'
She said: "We spent two years trying to get to the point where he was. He was doing so well. He's now got fears of the dark even though the attack didn't happen in the dark. He says that he dreams about what they did to him."
Acting Det Chief Insp Dave Bolton said: "It is sheer luck that the weapon missed his artery and he was not more severely injured."
The suspects have been described as black and/or Hispanic males. One was wearing a blue Adidas top and another was described as being approximately 16-years-old.