Man charged over Boris Johnson flight disturbance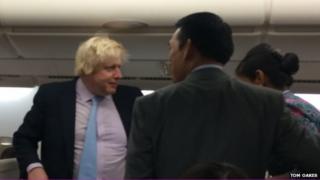 Boris Johnson intervened to help a cabin crew pacify an allegedly drunk and abusive passenger on a flight from Kuala Lumpur.
David Morris, 43, of Ash Vale in Surrey, has been charged with assault by beating and being drunk on a plane.
The Met said he was also charged with behaving in a threatening or abusive manner towards a cabin crew member.
The London mayor is believed to have warned Mr Morris that he may face arrest on arrival at Heathrow.
Mr Morris has been bailed and will appear before Uxbridge Magistrates' Court on 18 December.
The mayor was on his way back to the UK following a six-day trip to the Far East promoting bilateral trade and investment.
Mr Johnson had been posing for pictures with fellow passengers on the Malaysia Airlines flight, including Mr Morris.