Banksy's rival King Robbo died of head injury, inquest hears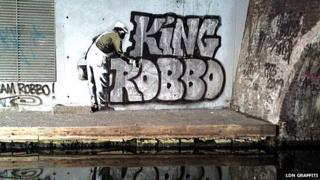 Banksy's rival, the grafitti artist King Robbo, was found in a pool of blood at the foot of a flight of stairs at his London home, an inquest heard.
The father of three, whose real name is John Robertson, was placed in a medically induced coma in April 2011.
But a coroner found there was "no suggestion of foul play" in the fall apparently suffered by the 44-year-old artist, who died in July.
She said there was "not enough evidence" to explain the incident.
King Robbo was found lying in a pool of blood outside his flat in King's Cross and died of pneumonia caused by a traumatic brain injury.
Towering figure
Recording an open verdict at his inquest, Mary Hassell, senior coroner for Inner North London Court, said: "There is insufficient evidence to allow me to decide any other determination," as first reported in the Camden New Journal.
King Robbo, a towering figure at 6ft 8in (2.03m), climbed to fame as one of the early leaders of the graffiti movement in the UK and the US in the 1980s.
Mr Robertson was spotted by passers-by lying outside his flat four months before a Channel Four documentary focused on the rivalry between him and Banksy was due to air.
Ms Hassell said pedestrian Peter Watt had reported seeing Mr Robertson around 00:20 BST on 2 April "at the top of ten stairs texting on his mobile."
Black-cab passenger Louisa Green said in a statement she spotted him 20 minutes later "lying on the ground at the bottom of the steps with blood around his head" as she drove past and called an ambulance.
Mr Robertson's work was exhibited in galleries and he received several high value international commissions, but became better known for a public feud with his rival Banksy, whose works sell for millions of pounds worldwide.
Banksy and King Robbo had allegedly become involved in a public clash in a bar in Old Street, east London, which resulted in Banksy painting a figure of a man putting wallpaper over a 1985 Regent's Canal Robbo mural.
But following the news of King Robbo's death, Banksy paid tribute to him on his website, listing the names of the graffiti crews he was a part of: "Robbo WRH WD PFB - RIP".
Recording her verdict, Ms Hassell said: "I have no hesitation in saying that Mr Robertson died as a result of the long-term traumatic brain injury that he suffered in 2011.
'London's graffiti trailblazer'
"However, I have scant evidence as to how that brain injury was sustained. He was found at the bottom of the flight steps.
"It may be that he simply fell down that flight but I have no evidence. There is insufficient evidence to allow me to decide any other determination."
Following the incident, Mr Robertson was eventually transferred to the Royal Hospital for neuro-disability in Putney, where Dr Kudret Yelden diagnosed him as being "in a vegetative state second to traumatic brain injury" and said he made little progress.
In March, he was taken to the Gardens and Jacobs Neuro Centres in Sawbridgeworth, Hertfordshire, where he died on 31 July.
Joe Epstein, the producer of LDNGraffiti, said King Robbo was "London's graffiti trailblazer".
"He always led with inspiration and left an unforgettable imprint on all who knew him. He is dearly missed by his family, friends and crew," he said.
"The spat with Banksy, for King Robbo was a bit of fun and he enjoyed the attention and responses from Banksy. It gave him refreshed enthusiasm for his own artwork...[he] will be remembered as part of the ongoing history of modern graffiti."