Chimpanzee skull found in endangered species haul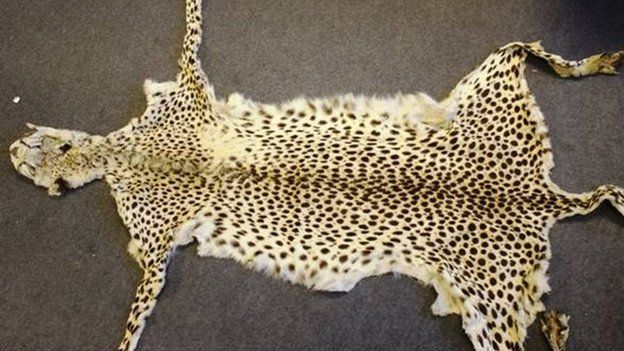 A man who purchased body parts from protected animal species, including the skull of a chimpanzee, has received a suspended jail term of 10 months.
Peter Prineas, 52, bought illegal animal parts including a cheetah skin and a brown bear claw, police said.
Prineas, of Poverest Road, Orpington, south-east London, admitted the offences at an earlier hearing.
He received the sentence, suspended for 18 months, at Croydon Crown Court on Tuesday.
Prineas purchased primate skulls, a brown bear claw and great white shark teeth from online auction sites and private sellers.
The animals were protected under the Control of Trade in Endangered Species (COTES) regulations
When Scotland Yard's Wildlife Crime Unit searched his home in February, they seized the cheetah skin, a drill skull, a leaf monkey skull, four chimpanzee skulls, a leopard's skin, a lion claw, a killer whale tooth, a sperm whale tooth and other specimens of protected animals.
Prineas pleaded guilty to a total of nine charges relating to the items.
In response to the sentence, World Animal Protection campaign manager Alyx Elliott said: "The items seized illustrate the cruelty involved in this type of crime and the lengths that criminals will go to in order to exploit animals simply for financial gain."
Related Internet Links
The BBC is not responsible for the content of external sites.