UKIP faces tough battle for London votes says Nigel Farage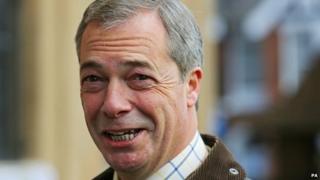 UKIP faces a tough battle to gain strong support in London, its leader Nigel Farage has said.
Speaking to BBC London 94.9, he said if people living in the capital were not born in the UK or had no particular affinity to the country, it would be harder for UKIP to appeal to them.
He suggested this was why his party has not done as well in London as it does in other parts of the UK.
The party has 12 local councillors elected in the capital.
'Trading nation'
The UKIP leader said: "If people are living in London and don't feel a particular affinity to the country, then it's going to be harder for them to look at UKIP as being a party that they would want to vote for.
"What's actually happening in London is that Labour is dominating politics in the most extraordinary way.
"If you look at what's happened to the growth and decline of the Labour vote, you see it's going up in London and down in the rest of the country."
When it was put to Mr Farage that London "is the place where you don't have a toe-hold", he replied: "No we don't but as I say, that is almost because a lot of people who come here do not feel a strong affinity to this country."
Mr Farage also said it was important to maintain London's links with other countries.
"I think if this country is going to be a success in the future it will only do so as being a global trading nation and London as a global capital," he said.
Referring to the importance of international trade and alliances, he said: "I'm as far away from the sort-of stereotype of those who don't support our views of being a 'Little Englander' as one could possibly be."
The full interview with Mr Farage is on BBC London 94.9's Breakfast Show on Friday.