Churchill's Old War Office building sold off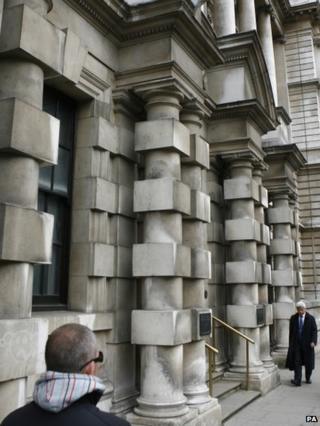 The Old War Office where Sir Winston Churchill masterminded Second World War manoeuvres has been sold to property developers.
The Whitehall building, which has 1,100 rooms and two miles of corridors, was put up for sale as part of the Ministry of Defence's cost-cutting.
The government said it understood the building would be redeveloped as a hotel and residential apartments.
The amount the building was sold for has not been revealed.
The Ministry of Defence (MoD) has confirmed that the 580,000 sq ft property at 57 Whitehall was sold on a long-lease arrangement to the Hinduja Group, in partnership with Spanish group Obrascon Huarte Lain Desarrollos.
MoD staff are expected to move out in about a year's time, with most operations to transfer to MoD's main building.
Completed in 1906, the Old War Office housed secretaries of state including Lord Haldane, Lord Kitchener, David Lloyd-George and Churchill.
It was put up for sale after being declared surplus to MoD requirements in August 2013.