Eric Pickles sends in commissioners to Tower Hamlets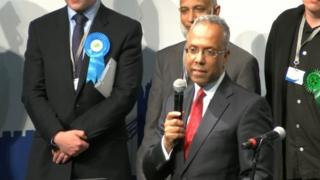 Two government-appointed commissioners have been sent in to take control of specific areas of Tower Hamlets council, in east London.
They will take control of grant-making and approve any sale or disposal of council property after a critical report by independent inspectors.
The report published in November revealed a "culture of cronyism".
The council's mayor said "sanctions imposed" by the government were "unreasonable and disproportionate".
But mayor Lutfur Rahman also said: "We welcome the inspectors and look forward to working with them."
Communities Secretary Eric Pickles sent in the two commissioners after auditors said the council grant system lacked transparency and some groups got cash without applying for it.
The commissioners will be led by Sir Ken Knight, the former London fire commissioner, who will be supported by former council chief executive Max Caller.
They are due to be in place until March 2017.
PricewaterhouseCoopers was instructed by Mr Pickles to investigate "allegations about governance failures, poor financial management and possible fraud".
It followed allegations in a BBC Panorama investigation that directly-elected mayor Lutfur Rahman diverted charity money for political support.
Mr Rahman has denied all allegations of electoral malpractice.