London Fire Brigade warns Christmas clutter can risk lives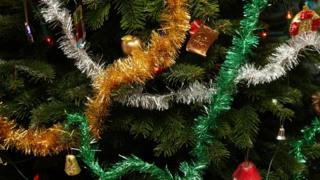 Discarded Christmas trees, wrapping paper and other festive cast-offs could put Londoners' lives at risk, fire chiefs have warned.
London Fire Brigade (LFB) already tackles a blaze a day in the communal areas of the capital's tower blocks.
Clutter can also be hazardous because it blocks escape routes and hampers firefighters, LFB said.
Last year, LFB figures show there were 514 fires in hallways, stairways and corridors in flats developments.
'Responsibility of landlords'
Mark Andrews, LFB's deputy head of fire safety regulation, said: "This is a big problem for our crews at this time of year. As well as providing fuel for fires, Christmas rubbish and other items such as pushchairs or bikes left to block communal areas will become a dangerous obstacle that can slow down firefighters trying to reach a fire and save residents.
"It's the responsibility of landlords to keep communal areas clear and ensure their property has a suitable fire safety plan. Residents can help by not storing items in communal areas because these can cause fires that spread quickly."
The LFB figures showed the number of fires it tackled in the city's flats in 2013 was up by 65 on the previous year, with more than 40 fires affecting communal areas every month.
The amount of wrapping paper thrown away at Christmas in the UK would stretch to the moon, according to recycling advisors WRAP.
LFB's warnings are part of the Know the Plan campaign, which is designed to increase fire safety awareness for both landlords and residents of purpose-built high rise blocks.