New Year's Eve London fireworks preparations under way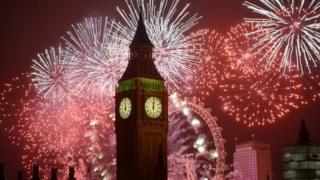 A massive operation is under way to ensure London is ready for the New Year's Eve fireworks event.
About 85 organisations are involved in planning the spectacle, a crew of more than 300 will set the fireworks off and about 3,000 stewards will be on hand.
The display includes 12,000 fireworks producing 50,000 projectiles to be fired from 5,500 cues. There are also 2,000 lighting cues.
Some 100,000 people are expected to watch them along the River Thames.
It is now a ticketed event after an estimated 500,000 people tried to see it last year, with many turned away for safety reasons.
Each ticket was priced at £10, which covered the costs of running the ticketing scheme. No profit was being made, the mayor's office said.
Road closures from Oxford Street, Elephant and Castle, Vauxhall Bridge and Southwark Bridge will begin from 14:00 GMT on Wednesday, with most closures in place from 20:00.
Viewing screens
There will also be some bridge closures, while some central Tube stations will become exit only.
Those who do not have a ticket have been urged by the police to avoid central London.
This year, Parliament Square and Trafalgar Square will not have large viewing screens.
Mayor of London Boris Johnson said: "It is a spectacular show enjoyed by people up and down the country and around the world and we have brought in ticketing to ensure crowd safety on the night and the event's future sustainability.
"For anyone without a ticket, there are plenty of other celebrations taking place across the city and we are urging them to avoid the area.
"And of course, you can still watch it live and in full on BBC One."
London Ambulance Service said it was preparing itself for the busiest night of the year.
At peak times last year it took more than 600 calls an hour when normally it would only take about 250.
The service is running three alcohol recovery centres and five so called "booze buses" across London to look after people who have had too much to drink.