Man seriously ill after Peter Jones escalator fall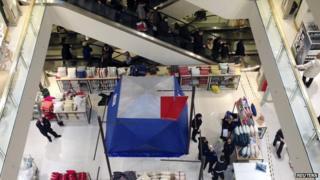 A man is in hospital after falling from an escalator in a department store in south-west London.
Emergency services were called to Peter Jones in Sloane Square, Chelsea, at 13:05 GMT where a man believed to be in his 20s had fallen.
Police said he had multiple injuries and was taken to hospital in a life-threatening condition.
They said inquiries were under way to ascertain how it happened.
London Ambulance Service said the man was treated for head and chest injuries and taken to St Mary's Hospital, Paddington.
At 19:40, police said the man's condition was "serious but stable".
A spokeswoman for John Lewis, which runs the store, said it had closed early following "a serious customer incident".
A 28-year-old woman from Richmond said she was walking away from the escalator on the first floor when she heard a thud.
She said she believed the man fell from the third or fourth floor and people gasped when they saw what had happened.
"People coming off the escalator looked white as sheets," she said, adding that the store was busy at the time.
She said staff members working on the cosmetics counters had looked distressed at what they saw.
A John Lewis spokeswoman said: "Everyone who was working was clearly shocked and upset by what happened."