London Air Ambulance grounded for nearly three weeks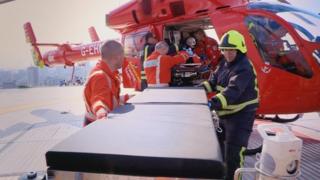 London will be without its air ambulance for nearly three weeks while the charity's helicopter undergoes its annual maintenance checks.
The service will still send a rapid response team to emergencies, but will use a car instead of the helicopter so response times will be longer.
Last November the charity treated 163 patients, including 61 road collision victims and 34 who had been stabbed.
The charity is now calling for help to raise funds for a second helicopter.
Commenting on the length of time it takes to service the helicopter, a London Air Ambulance spokeswoman said: "All helicopters must undergo an annual service.
"During this time it will be inspected thoroughly and serviced to maintain optimum condition."
It costs about £5m per year to run the service.
Barts Health NHS Trust pays the salaries of the trauma doctors while London Ambulance Service funds paramedics. The remainder is raised from public and corporate donations.
The service claims its main role is to take the hospital to the patient - in the form of an advanced trauma team - and not the patient to the hospital. This only happens in a small number of cases, depending on proximity to a major trauma hospital, of which there are four in London.
Speaking to the Evening Standard, its chief executive Graham Hodgkin said: "I wouldn't want the people of London to be worried. We will deliver a team through the rapid-response car.
"The reality is that our dispatch times are likely to take longer and therefore delivering the team is slightly diluted."