Newham Holocaust memorial day posters defaced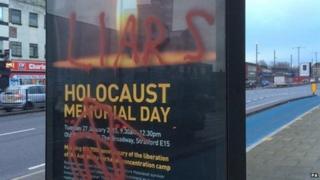 Posters advertising a Holocaust memorial event in east London have been daubed with graffiti including the words "liars" and "killer".
The vandalism, which took place in Newham, is being listed as a "hate crime", Scotland Yard said.
Newham mayor Sir Robin Wales described what had happened as "despicable".
The graffiti, which is being treated as racially aggravated criminal damage, was found in four locations and has been removed, the council said.
It was found at two locations in High Street, Stratford, one in West Ham Lane, near Stratford Park, and another on Balaam Street, Plaistow.
The posters, which are on display at 43 sites across the borough, are advertising the council's Holocaust memorial day event on Tuesday 27 January at Stratford Town Hall.
The council said police were checking the borough's CCTV footage to try and identify those responsible. Council officials will also be monitoring all advertising boards in case of further offences.
'Repulsed'
The vandalism was brought to the attention of Newham Council via social media.
Resident James Tattle, who reported one of the incidents on Twitter, said he was "repulsed" by what he saw.
"I was utterly repulsed, and saddened, to see one of the posters had been defaced," he said.
"I couldn't believe that anyone would stoop so low as to scrawl that graffiti - not something I expect to see in London in 2015."
The mayor said: "This despicable and cowardly hate crime is an assault on the values of decency and mutual respect which the vast majority of us share."