London Bridge: Small errors snowball to create political headache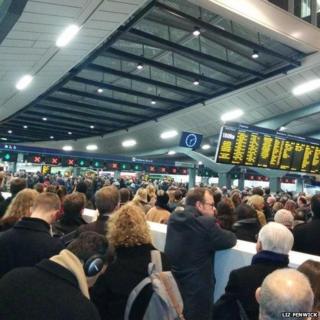 It has been a dreadful few weeks for Network Rail.
There were engineering over-runs at King's Cross station on 27 December.
The chair of the Transport Select Committee, Louise Ellman, described what happened there as having "elements of farce".
New rail grab equipment meant to improve reliability broke down and communication failed at the backup station Finsbury Park.
According to Network Rail bosses, local management at that station switched the platforms for intercity trains leading to huge queues.
Then the jewel in the crown of the Thameslink upgrade - London Bridge - also hit problems in the first week of January.
Network Rail had warned commuters there could be delays but the reality still provoked anger.
Display screens were in the wrong place on the new concourse which created crowds and which meant passengers could not get onto trains.
There were also too many trains for the new platforms and signalling, which led to concern that the modelling for London Bridge was wrong.
Commuters using Southeastern have been in touch. Passengers that use the Greenwich Line feel particularly aggrieved at the cancellation of services to London Bridge which will last many years while the remaining services are now overcrowded.
'Vocal and angry'
While the disruption seems to have lessened, remember there are years of work yet to be completed on this project.
What guarantees are there we won't see similar failures if the modelling was not correct?
A spokesman for Network Rail said: "We recognise that passengers have endured a difficult period at London Bridge as a result of unreliable infrastructure and problems with the timetable.
"Our rush-hour timetable was ambitious and some minor changes have had to be made to help it run more smoothly.
"In addition we have had extra teams working on the infrastructure in the area to bring it up to the standard of reliability that we expect.
"The Thameslink Programme is a huge undertaking that will bring a big improvement to travel through London Bridge, but in the meantime we are working hard to improve the services people are relying on today."
Southern trains that use London Bridge have had to change their timetables, not once but twice.
The company's access into London Bridge was reduced from six to three tracks.
Commuters that use Southern have been extremely vocal and angry about the lack of reliability in their service.
And now these upgrades have got political, perhaps not surprising as a General Election looms.
Some MPs have called for the transport secretary to check if Southern has breached the terms of its franchise.
MPs from all sides have weighed in calling for better project management at London Bridge.
Lewisham MP Heidi Alexander has confirmed she has secured a parliamentary debate on the impact of London Bridge on rail services.
And Boris Johnson has also criticised the upgrade at London Bridge.
At mayor's question time, he said no-one was "taking ownership" of the project. He wants organisations more directly accountable to London institutions.
Former mayor Ken Livingstone also had eyes on the capital's sub surface lines so it's no surprise this mayor would like more control.
It seems doubtful that clamour will go away - and transport is never far away from politics.