Super sewer judicial review rejected after deadline missed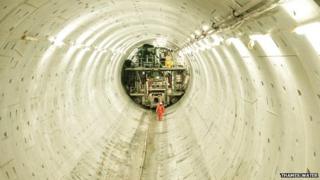 An application for a judicial review of London's "super sewer" has failed after a council missed the deadline for submission of court papers.
Southwark Council is opposed to the 15-mile (25km) Thames Tideway Tunnel proposed by Thames Water.
The authority was required to submit paperwork to the High Court but said it missed the deadline owing to a "law that was ambiguous".
The council is yet to confirm whether it will appeal against the decision.
Thames Water said the £4.2bn sewer - which will run from Acton Storm Tanks to the Abbey Mills pumping station - is needed because the city's Victorian sewer network can no longer cope.
But opponents believe the work will cause major disruption and insist there are better options.
Southwark Council applied for the judicial review on the grounds that the proposal to use Chambers Wharf would cause "unacceptable levels of disruption to residents and pupils attending the nearby schools".
Leader of Southwark Council, Peter John, said he was "very disappointed that Southwark was denied its day in court".
He said the council had been working under a timeframe set to be brought in, but the judge was working on current legislation.
Mr John said: "The government's changes would have meant that our judicial review was in time... We are still vehemently opposed to the scheme."
Applications by the Thames Blue-Green Plan and the Thames Blue-Green Partnership, which both support using the latest technology to create an efficient city, were also refused.
Both have confirmed they intend to appeal.
Lady Dido Berkeley from the Thames Blue-Green Partnership said: "We all know the tunnel is the wrong solution."
She said the improvements in technology since the plan was made need to be taken into consideration and then "we could make London a fantastically blue-green city".
"We will go to Europe on this," she said.
Thames Tideway Tunnel said: "We are pleased with the clarity provided by the court's decisions."