London street march Muslim men given three-year Asbo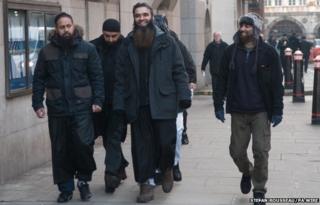 A group of Muslim men have been given three-year anti-social behaviour orders (Asbo) for threatening violence.
The 12 were convicted of public order offences after disorder at a Edgware Road march and an Oxford Street Dawah - where Islam is preached - in 2013.
At the Old Bailey, they were barred from joining groups of five or more.
The men said their ability to practise Islam would be inhibited by the order, but Judge Paul Worsley QC ruled the decision "appropriate".
Attacked with placards
He said: "They are prepared to behave in a way which is wholly unacceptable and which involved violence or the threat of violence to members of the public who were going about their day to day activities in busy London streets."
Scotland Yard said on 1 May a protest on Edgware Road saw people affiliated, to the now proscribed, Terrorist organisation 'Al Muhajiroun' protesting against Shi'ite Muslims, chanting sectarian slogans and carrying inflammatory banners.
The force said the incident culminated in an attack on two members of the public who were beaten to the floor, punched, kicked and struck with wooden placards.
The Met added that on 8 May, during a Dawah on Oxford Street, members of the group "set upon" some football fans following an earlier clash between the two groups.
At the time of the hearing in June, Commander Duncan Ball, said: "People in London have a right to go about their daily lives without being put in fear by this type of criminal behaviour."
As part of the asbo the group are also prohibited from burning items other than for smoking or to keep warm.
The 12 men are:
Mira Ali, 40
Karman Khan, 30
Mohan Udine, 37
Minim Abdul, 33
Jalap Ahmed, 26
Abu Aziz, 32
Yusuf Basher, 34
Mushier Raman, 33
Queer Ahmed, 30
Nasser Khan, 30
Mohammed Laager, 35
and Jordan Horner. 31,
Horner is already subject to a five-year Asbo for spreading extremist religious views during vigilante patrols in east London that called for a Shari State in the UK.