Ayesha Ali death: Accused's 'cyber fantasy world' revealed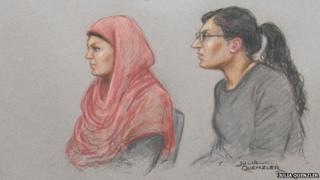 The cyber fantasy world of a mother, accused alongside her lover of killing her eight-year-old daughter, has been revealed in court.
Jurors at the Old Bailey have heard Kiki Muddar, 41, formed a deep hatred for Ayesha Ali, the daughter of her lover Polly Chowdhury.
Ms Muddar made up characters to control Ms Chowdhury and kept 41,000 text messages and 1,400 recordings on her phone, the court heard.
Both women deny murdering Ayesha.
As well as pretending to have cancer to get close to Ayesha's mother, Ms Muddar also created a number of alter egos on Facebook and text, including "Jimmy" who became Ms Chowdhury's "cyber soul mate".
Ms Muddar also pretended to be an influential Muslim spirit adviser called "Skyman".
Det Con Karen Wilson read out a summary of the text messages in court.
Under cross examination, Ms Muddar's lawyer, Henry Blaxland QC, suggested: "In amongst this material you get glimpses of my client as a rather sad and lonely woman."
Det Con Wilson replied: "No. I don't agree. Sad, not lonely."
The defence lawyer highlighted a text sent on April Fool's Day 2012, in which Miss Muddar appeared to be communicating with herself as "Jimmy".
In it, she wrote: "I'm alone because I don't have a husband. I don't have kids. I don't get to go out much because of this illness. Everything I want I don't have."
But the police officer said some Facebook messages were "self-serving" and designed for Ayesha's mother to see .
Jurors have been told that Ayesha was found dead in her bedroom on 29 August 2013. She had more than 50 injuries to her head, body and limbs, including carpet burns and a bite mark on her shoulder.
Ms Muddar, of Green Lane, Ilford, and Ms Chowdhury, of Broomfield Road, Chadwell Heath, Romford, deny murder, manslaughter and causing or allowing the death of a child between March 1 and August 29 2013.
The trial was adjourned until Wednesday.