Four arrested after shots fired in north-west London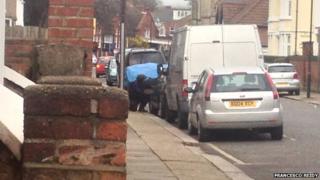 Four people have been arrested after shots were fired in north-west London.
Firearms officers went to Gloucester Close, in Stonebridge Park, at 12:49 GMT after reports of a man armed with a shotgun entering a property.
Shots were fired into two properties in nearby Bruce Road and Casselden Road before officers arrived. No-one was injured.
Three men were arrested on suspicion of firearms offences and taken into custody. A woman was also arrested.
Some addresses in the Casselden Road area were searched and officers stopped a Vauxhall Corsa, which they believe was involved in the incident.
The female driver of the vehicle was also arrested and remains in custody.
The Met's helicopter also attended the scene, police said.
Witness Francesco Reidy said: "Six or seven police cars raced past me as I was parking may car.
"I saw about 15 to 20 armed police officers assembling, preparing door battering ram type devices."