Network Rail sends Thames Water 'multi-million pound bill'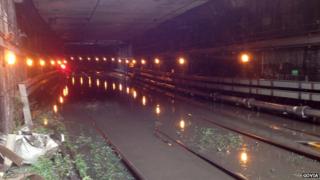 Network Rail has issued Thames Water with a "multi-million pound bill" after leaks and a burst water main led to more than 1,000 trains being cancelled.
The St Pancras to Farringdon track was closed at 21:00 GMT on Wednesday with no trains "until at least the end of service" on Thursday.
Since cancellations started on Friday, services have been delayed by a total of 133 hours.
Thames Water said a lack of maintenance by Network Rail was behind the problem.
Patience 'exhausted'
The water company added its insurers were involved in discussions about the problems.
Thames Water identified a burst water main on Friday evening and found a further four leaks that are yet to be fixed.
Phil Verster, of Network Rail, said: "The overwhelming extent of the continued flooding made it unsafe to run normal through services between London St Pancras and London Blackfriars since Sunday.
"We expect Thames Water to reimburse passengers, train operators and Network Rail for the significant consequences of these water leaks."
Tom Edwards, BBC London Transport Correspondent
This has now descended into tit-for-tat corporate wrangling over whose fault the disruption is and whose responsibility the flooded tunnel was. Network Rail's bullish approach on Wednesday - when they said they'd be presenting a million pound bill to Thames Water - has badly backfired.
It's horrendously embarrassing that the problem on Wednesday seems to be down to their own maintenance and, even worse, it was highlighted years ago.
However, Thames Water is not denying its burst pipes caused the problems between Friday and Monday and it is good news for commuters because it has at least found the cause of the problem.
This new franchise has had a poor start - Thameslink commuters have had a shocking few weeks, they'll just hope this is the start of an improvement.
Bus services will run between the Great Northern route and Thameslink with tickets accepted by all other operators.
Thames Water said it had cleared the water after cleaning out Network Rail's surface drainage system.
Bob Collington, the director of Thames Water, said: "The pipe was full of silt and debris, and a grill which would have allowed the water to drain away was blocked solid.
"Basically, the water had nowhere to go.
"We believe this problem was first identified as far back as 2007, and the problems with water on the track have been caused by a lack of maintenance on their part."
The water company said it would be meeting with Network Rail in Derby on Tuesday to present their findings.
Stuart Cheshire, from Thameslink, said: "Passengers have been very patient but, like us, that patience has been utterly exhausted. These recurring leaks have to stop."
Specialist teams are also carrying out assessments of the pipe and checking roads nearby for additional leaks.
Any passengers who have faced delays or cancellations can claim compensation through the Thameslink Railway website.