London bus workers to stage three strikes, Unite says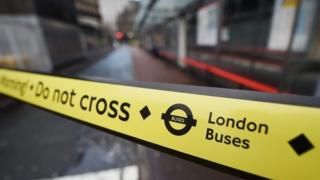 Bus workers in London are to stage three 24-hour strikes over pay, the Unite union says.
The action aims to urge London's 18 bus firms to talk about a single pay deal for those doing the same job. Currently wages can differ by £3 an hour.
The 24-hour strikes will take place from 00:01 to 23:59 on 5, 13 and 16 February, Unite said.
Transport for London (TfL) said it made "no sense to pay all drivers precisely the same amount".
Mike Weston, TfL's director of buses, said: "I am very sorry that the leadership of Unite are threatening to further disrupt the journeys of bus passengers, especially given that only 16% of the bus drivers voted for strike action.
"As in all professions, bus drivers have different levels of experience and it is only right that this can be reflected in pay.
"A 'levelling up' of pay to the highest rates would cost around £100 million a year."
Unite said, in contrast to Tube drivers, bus workers' pay was negotiated on a company-by-company basis, with more than 80 different pay rates covering London's bus drivers doing the same job.
Unite regional officer Wayne King said: "We firmly believe that there is a simple solution to be had, but sadly the refusal by the operators to engage in collective talks is risking the inevitable disruption that strike action will bring to passengers.
"Bus passengers pay one fare, so why don't bus drivers get paid the same rate for doing the same job?"
A strike earlier this month led to widespread disruption to bus services in the capital after 20,000 workers walked out.
The firms involved in the dispute are: Arriva North, Arriva South, Selkent, London General, Metroline, Metroline West, Metrobus, CT Plus, London United, Abellio West London, London Sovereign, Stagecoach, Blue Triangle, Northumberland Park, Tower Transit, Docklands and London Central.