Thameslink services resume on after tunnel flood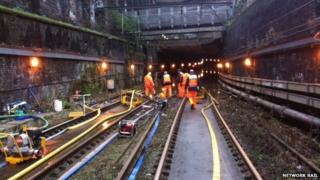 Thameslink services have resumed on Friday after leaks and a burst water main led to more than 1,000 trains being cancelled, Network Rail has said.
The St Pancras to Farringdon track was closed at 21:00 GMT on Wednesday to resolve the problems.
Network Rail said it would issue Thames Water with a "multimillion-pound bill" for the disruption.
However, Thames Water said a lack of maintenance by the rail operator had contributed to the flooding.
'Very difficult week'
Thames Water identified a burst water main on Friday evening and found a further four leaks that needed to be fixed.
Network Rail said more than a million litres of water had been pumped from the tunnels.
The company also warned of possible cancellations and shorter trains on Friday after five of Thameslink's 121 trains were damaged by floodwater.
The damage is not safety related but they have been taken out of service for repair and the rest of the fleet is being checked, Network Rail said.
Network Rail's route managing director Phil Verster said: "This has been a very difficult week for passengers and I can only apologise for the disruption.
"We have had joint teams working around the clock to address the impact of the floodwater, trying to keep trains moving. We are also working closely with Thames Water to investigate how such incidents can be managed in the future."
Stuart Cheshire, from Thameslink, said: "We're hugely relieved the tunnel is to open again.
"We'll continue to run a reduced service today, however, we'll do our best to make things better by running longer trains where possible."
Thames Water said it had cleared the water after cleaning out Network Rail's surface drainage system.
Bob Collington, the director of Thames Water, said: "The pipe was full of silt and debris, and a grill which would have allowed the water to drain away was blocked solid."
He claimed the problems with water on the track were caused "by a lack of maintenance" on Network Rail's part.
The water company said it would be meeting with Network Rail on Tuesday.
Network Rail added it was aware of the views raised by Thames Water and they would be discussed during a joint investigation into the leaks.
Any passengers who have faced delays or cancellations can claim compensation through the Thameslink Railway website.