Greenwich shooting prompts murder inquiry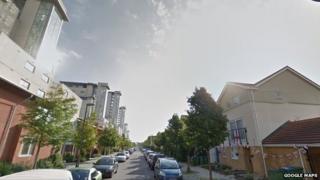 A man found with gunshot wounds in south-east London has died prompting a murder inquiry.
Police were called to Erebus Drive, Woolwich at about 04:30 GMT after reports of shots being fired.
Travelling to the scene officers found the man, aged in his 20s, in a car on Western Way in Thamesmead. He was taken to hospital but later died.
Eleven people have been arrested in connection with the death. The two other men in the car were not arrested.