Ayesha Ali death: Mother 'blamed lover' for death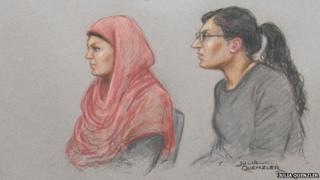 A mother accused of murdering her daughter told a prison officer her lover was responsible for the death, a court has heard.
Polly Chowdhury, 35, said Kiki Muddar, 43, put eight-year-old Ayesha Ali into a bath of cold water as a punishment for for wetting herself.
When she went into the bathroom, Ms Muddar told Ms Chowdhury "I think she's drowned", the officer said.
The mother said she took Ayesha out of the bath and did chest compressions.
Prison officer Lisa Donohue told jurors, at the Old Bailey, Ms Chowdhury then said she put Ayesha in bed, before telling Ms Muddar to leave the house, in Chadwell Heath, for the night.
According to the prison officer, Ms Chowdhury realised something was "not right" with her daughter, the next morning.
'Bad' daughter
During her 50-minute conversation with Ms Chowdhury, the officer said she asked her if she was in a relationship with Ms Muddar.
She replied she was not, before going on to explain her friend had pains in her body and when she touched her, they would disappear.
Ms Chowdhury said Ms Muddar had suffered from cancer in the past but it had "gone away, as Kiki had predicted".
In the conversation with the prison officer, she also admitted she now realised characters called Dave and Jimmy, who would send her Facebook and text messages, were not real people, the court heard.
The officer also told jurors the mother told her she had begun hitting her daughter because "she had been made to believe" she was bad.
Last week the jury was played an expletive-strewn telephone call, made by Ms Muddar, to her cousin, in which she threatened to kill Ayesha.
She said she would "drown that witch" and was "going to kill her and go to prison tonight".
A pathologist who examined Ayesha's body also told the court although there were numerous bruises and marks on the body, the cause of death was a head injury.
There were "few hours" between the injury being inflicted and Ayesha's death, jurors were told.
Both women deny murder, manslaughter and causing or allowing the death of a child.
The trial continues.