Ayesha Ali death: Mother's lover 'created own world'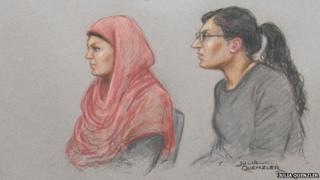 A "sadistic" woman accused of killing her lover's daughter created a new world for herself in which she was the star, a court heard.
Kiki Muddar, 43, invented a cast of fictitious characters to seduce Polly Chowdhury, 35, and poison her mind against her eight-year-old daughter.
Both women deny murdering Ayesha Ali, who was found dead in her bedroom in Chadwell Heath, east London, in 2013.
Jurors at the Old Bailey heard Ms Muddar had a personality disorder.
The court was told she created characters, including "Jimmy Chowdhury" and Muslim spirit guide "Skyman", to manipulate Ms Chowdhury.
She used Facebook and sent text messages to Ms Chowdhury pretending they were from them.
'No grasp of reality'
Psychiatrist Cleo Van Velsen told the court: "[Ms Muddar] has an impaired relationship with reality because she has created an alternative one.
"She... does not have many friends and suddenly she has created a world where she is a star.
"She tells lots of lies - she tells them to herself, which is why they are so convincing. I don't think she has a grasp of reality."
Dr Van Velsen said the characters were not constructed purely for Ms Chowdhury.
"[Ms Muddar] was breaking down in some way and she created this world to make things better," she said.
She said the defendant had an idea of what a "good person" should be and saw herself as "righteous", so if something bad happened she would immediately deny it.
Dr Van Velsen agreed there were elements of "sadism and cruelty" in the way she had set chores for Ayesha in the months leading up to the killing - which was a common feature in someone with a narcissistic personality disorder.
Under cross examination, prosecutor Richard Whittam QC said: "You concluded that Kiki Muddar thought Ayesha was an impediment to her relationship with Polly Chowdhury and she wanted her to be rid of Ayesha - is that an entirely rational thought?"
Dr Van Velsen replied: "It is not, because the relationship with Polly was an entirely unhealthy one. This was a very disturbed, toxic situation and her turning an eight-year-old into a threat to a relationship was not rational."
'Bizarre relationship'
Earlier, Ms Muddar's lawyer Henry Blaxland QC told the jury the defendant would not be giving evidence herself.
"The majority of the evidence so far has been concerned with the bizarre relationship between Kiki and Polly and the point has been made that Kiki is responsible for poisoning Polly's mind and turning her against her child," he said.
He said that was something the jury had to decide as well as if Ms Muddar properly understood the potential consequences of her own actions.
"Did her personality disorder so distort her perception of the world and so dominate her relationships with other people she failed properly at all to understand the effect of her conduct?," he asked.
Mr Blaxland said it was the defence's case Ms Muddar did not play a part in Ayesha's death but if the jury thought she did, then the verdict should be manslaughter on the grounds of diminished responsibility.
Ms Muddar, of Green Lane, Ilford, Essex, and Ms Chowdhury, of Broomfield Road, Chadwell Heath, Romford, Essex, deny murder, manslaughter and causing or allowing the death of a child, between March 1 and August 29 2013.
The trial was adjourned until on Monday.