Votes 'not secret' in Tower Hamlets election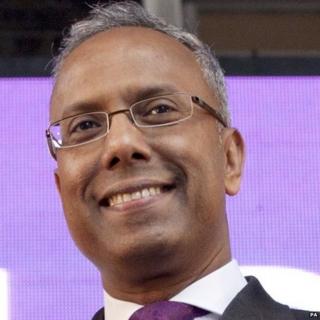 A social worker has told a judge she became concerned when she saw two people in one voting booth at a local election in east London.
At the Election Court - part of the High Court - four petitioners allege Tower Hamlets mayor Lutfur Rahman used "corrupt and illegal practices" in May last year.
Janet Digby-Baker said votes were "clearly not secret" when she voted in the Limehouse ward.
Mr Rahman denies any wrongdoing.
Four voters, headed by Andy Erlam, who stood as a Tower Hamlets councillor, have mounted a challenge under the 1983 Representation Of The People Act at a special High Court hearing.
They want Election Commissioner Richard Mawrey, who is a senior lawyer sitting as a judge, to declare the May 2014 election null and void.
Ms Digby-Baker, who said she was involved in the civil rights movement in the United States, told Mr Mawrey how she saw two people in a voting booth more than once.
She said: "I was trying to think when I knew it was wrong for two people to be in a voting booth.
"I think I had known that throughout my life."
She added: "I always thought, understood that my vote was secret and these were clearly not secret votes."
Lawyers for the four petitioners have made a series of allegations, including "personation" - where people pretend to be someone else - in postal voting and at polling stations as well as ballot paper tampering.
Lawyers for Mr Rahman, who was re-elected for independent party Tower Hamlets First, have described the claims as "invention", "exaggeration" and "in some cases downright deliberately false allegations".
The hearing continues.