Ayesha Ali death: Mother denies killing her daughter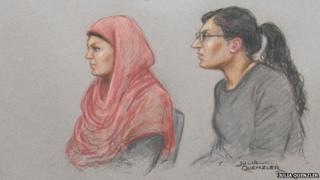 A mother accused of murdering her daughter with her lover has denied being present when the older woman was punishing the eight-year-old girl on the day she died.
Polly Chowdhury, 35 and Kiki Muddar, 43, are jointly accused over the death of Ayesha Ali. They deny the charges.
Ayesha was found dead in August 2013 having suffered numerous injuries, including a bite mark and carpet burns.
Ms Muddar, the prosecution claims, made up characters to control Ms Chowdhury.
Ayesha was found dead in her bedroom at a flat in Chadwell Heath, east London, with more than 50 injuries to her body.
'Evil spirits'
The court previously heard how Ms Muddar pretended to have cancer and invented a cast of fictitious characters to seduce and poison Ms Chowdhury's mind against her daughter.
Using the character of a spirit guide called "Skyman", Ms Muddar convinced her that Ayesha had "bad blood" and had to be disciplined to get the "evil spirits" out of her, the court heard.
Ms Chowdhury admitted that after Ms Muddar had moved in, they had smacked Ayesha and hit her with a wooden spoon on text message instructions from Skyman.
Giving evidence in her defence, she said on the day of her daughter's death Ms Muddar had taken Ayesha to give her a cold bath as punishment for wetting herself.
She told the court she heard noises from the bathroom and found Ayesha on the floor in her underwear with Ms Muddar's foot on her chest.
Ms Chowdhury pushed Ms Muddar off and they got her into the cold bath before she went back into the sitting room to use her laptop, the court heard.
She told the court Ms Muddar called out that Ayesha was messing around in the bathroom so she went in to tell her stop and then returned to the sitting room.
She said: "Kiki called out from the hallway again to say Ayesha was drowning and I went into the bathroom and I found Ayesha under the water.
"I panicked and tried to get her out of the water and asked Kiki to help me and she got her out of the water."
Ms Chowdhury said she thought her daughter had tried to drown herself and Ms Muddar performed CPR on the little girl but she was "pretty cold and very stiff".
She said: "I was very distressed. I was crying. I was hugging her.
"I was crying out for Skyman to help me."
She told the court Ms Muddar appeared "anxious" to go to her parents' house overnight and she left at about 21:00 BST.
After the older woman left, Ms Chowdhury said she sent a series of texts to Ms Muddar, her fictional boyfriend Jimmy and Skyman throughout the night, before she put a pillow over Ayesha's head to ease her suffering and tried to kill herself.
She told the court Ms Muddar had warned her not to mention what had happened in text messages for fear that her family might see them.
Defence lawyer Ali Bajwa QC told the court medical evidence showed Ayesha died from a head injury.
Ms Chowdhury said: "If it was the pillow that caused her death I would have pleaded guilty."
When Mr Bajwa asked: "Did you do it?", Ms Chowdhury replied: "No I did not".
'Someone would die'
Ms Chowdhury also told jurors she believed Ms Muddar had exploited her belief in "evil spirits".
The court heard Ms Chowdhury was brought up a Muslim by Bangladeshi parents in Hampstead, north London, and as a result of her upbringing she believed in "possession by spirits" and "black magic".
One character called Jimmy sent her texts promising to treat her like a "princess" and encouraged her to send explicit photographs of herself via Facebook, jurors heard.
Asked why she could not walk away from the situation, she said: "Because if I did, then someone would die. Kiki would die, Jimmy would die, my parents would die, my family."
Ms Chowdhury said the women were "soul-mate friends", but for her the relationship was not sexual.
The defendant said after Ms Muddar moved into her bed, she would spend all night "touching" her body, but it was only to "heal" her.
Ms Muddar, of Green Lane, Ilford, Essex, and Ms Chowdhury, of Broomfield Road, Chadwell Heath, Romford, Essex, deny murder, manslaughter and causing or allowing the death of a child, between March 1 and August 29 2013.
The trial continues.