EastEnders' Linda Henry cleared over 'racist abuse rant'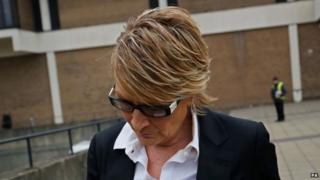 An EastEnders actress has been cleared at Bexley Magistrates' Court of racially abusing a council warden after being asked to pick up a cigarette end.
Linda Henry, who plays Shirley Carter in the BBC soap, was accused of using a racial insult outside a restaurant in Greenwich in September, shouting "Do you know who I am?"
The 55-year-old denied using racist language.
She said the racist word she was accused of saying was "repulsive".
Ms Henry embraced supporters when the verdict was read out.
'I'm Shirley'
Thea Viney, prosecuting, said a black female warden and her black male colleague approached Ms Henry, who was charged under her married name Valiris, outside Jamie's Italian restaurant in Nelson Road on 14 September.
Ms Viney said: "(She) told her that throwing litter was a zero-tolerance offence in Greenwich Borough and the Crown say that Ms Valiris responded by saying 'Do you know who I am? I'm Shirley'."
Giving evidence, the warden, Iyabo Adetokunbo, said she asked Ms Henry for her details for a fixed penalty notice.
She told the court: "When I asked her again she said 'Do you know who I am?' I said 'I still need your details.' She said she's Shirley and 'are you new?'"
Ms Henry gave her details but the warden suspected she had given a false address and told her that was an additional offence. The actress then shouted racist abuse "arrogantly" at her, the court was told.
"She said it as if I'm nothing and then just walked away ... into the restaurant," Ms Adetokunbo said.
"I was upset. I was doing my job. I can't describe how I felt."
Ms Adetokunbo said she did not recognise Ms Henry until she approached her but got the impression she thought she could get away with dropping the cigarette end on account of her fame.
The court heard a transcript of Ms Henry's interview with police.
She told the officer it was "really difficult" doing what she does because someone is always "out to get out you when you've done nothing wrong".
She firmly denied racially abusing Ms Adetokunbo and told the officer: "Absolutely not. I would swear on my children's life, deathbed even."
'Worst word'
She told the court the term she was alleged to have used was "repulsive" and if she heard anybody use the term she would "call the police immediately, (not) wait until the next day."
She said most of the time when she was approached by members of the public it was "lovely", but that a small percentage believed she was her "strong, feisty" EastEnders character and abused her.
She told the court she lived in a multi-racial area, was married to a Greek man, and had a "mixed-race daughter".
When it was put to her that she had lost her temper that day, she said: "No, I did not."
She told the court that if she had used "possibly the worst word in the English language" then she would have no career.
The actress, of Camberwell, south-east London, denied using threatening or abusive words likely to cause harassment, alarm or distress, and that the alleged offence was racially aggravated.
Ms Henry has played barmaid Shirley since 2006 and is also known for her role as Yvonne Atkins in the ITV drama Bad Girls.