Officers and suspect stuck in mud in Crayford Marshes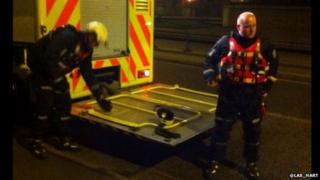 Three police officers got stuck in mud while chasing a teenage suspect across marshes in south-east London.
They had been following a van which failed to stop. When it did, two people ran off across Crayford Marshes.
A 15-year-old boy was arrested nearby but a 19-year-old was chased for more than an hour on Thursday night.
The teenager was rescued alongside the officers with help from the police helicopter and boat teams.
He is now in hospital after he showed signs of the onset of hypothermia.
Both were arrested on suspicion of vehicle and drug offences.