Ayesha Ali death: Jury told death 'stranger than fiction'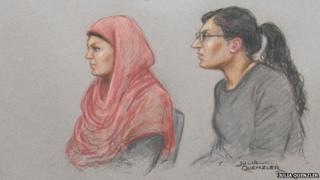 The jury in the trial of a mother and her lover who are accused of murdering her eight-year-old daughter have been asked to consider whether the truth may be "stranger than fiction".
Polly Chowdhury, 35, and her co-defendant Kiki Muddar, 43, both deny charges of murder, manslaughter and causing or allowing her death.
Prosecutor Richard Whittam QC told the Old Bailey Ayesha Ali had endured a "background of prolonged abuse".
He said some "might call it torture".
'Bad blood'
Ayesha was found dead in her bedroom in Chadwell Heath, east London, in 2013.
The cause of death was damage to the head from a blow or blows, but her body was also covered in about 50 injuries including a black eye, injuries to her hips and back and a bite by her mother, the court heard.
The Old Bailey heard Ms Muddar, of Green Lane, Ilford, Essex, invented a cast of fictitious characters on Facebook and in text messages to seduce Ms Chowdhury, of Broomfield Road, Chadwell Heath, and poison her mind against her daughter.
Masquerading as spirit guide Skyman, Ms Muddar convinced Ms Chowdhury that Ayesha had "bad blood" and had to be disciplined to get the "evil spirits" out of her, the court heard.
In court, Ms Chowdhury admitted that after Ms Muddar moved in, they smacked Ayesha and hit her with a wooden spoon because Skyman instructed them to do so via text message.
But Ms Chowdhury said she could not remember biting Ayesha.
Prosecutor Richard Whittam QC said: "Can she really not remember herself doing that, biting her own child, or is it that she can not accept what she had done?"
In his closing speech, he said: "Am I really standing, as I am, in the Central Criminal Court reading messages with this content? But truth is stranger than fiction."
He went on to say a psychiatrist said Ms Muddar was not delusional and understood what she was doing.
"She was rational in her judgments in having a disgust with Ayesha. She did not like Polly Chowdhury putting Ayesha above her interests," he said.
"However immoral, abhorrent and illegal her judgment, it was rational... there is no question of either defendant having been mad."
The case continues.