Operation Safeway: London road fatalities triple in year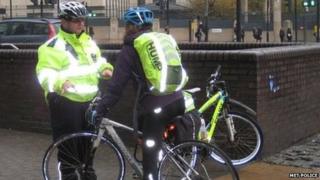 A three-fold increase in the number of fatalities on London's roads has prompted Scotland Yard to re-introduce its highway safety operation.
Since the start of the year 29 people, including three cyclists, have been killed on the city's roads. In 2014 the figure was 10.
More than 600 officers will be deployed at 166 key junctions during morning and evening rush hours for six weeks.
Operation Safeway started in 2013 after six cyclists died in two weeks.
Officers will target road users committing traffic offences.
The force said it would specifically focus on people using mobile phones whilst driving, speeding, failing to wear seat belts and on vehicle defects.
Supt Robert Revill said: "We are committed to road safety and must do everything in our power to influence road user behaviour.
"Every road death or serious injury is a needless tragedy. We must reverse this trend."
Operation Safeway was first launched in November 2013 in response to a series of cyclist deaths.
During the six-week period it resulted in 13,800 drivers and cyclists being issued with fines for jumping red lights, cycling on footpaths and having incorrect lights.
In addition, 209 people were arrested for offences including assault, dangerous driving, driving while disqualified and drink driving.