Witness could be offered anonymity in Tower Hamlets' mayor trial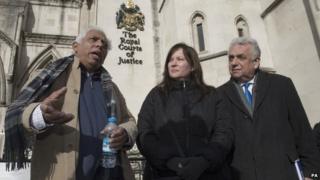 Witnesses might be offered anonymity at a court hearing into claims of electoral fraud in an east London borough.
At the Election Court - part of the High Court - four petitioners allege Tower Hamlets mayor Lutfur Rahman used "corrupt and illegal practices" in May last year.
The court heard a small number of witnesses had expressed "reluctance" about giving evidence.
Mr Rahman denies any wrongdoing.
'Reluctance to come to court'
The group of petitioners want Election Commissioner Richard Mawrey, who is a senior lawyer sitting as a judge, to declare the May 2014 election null and void.
Barrister Francis Hoar, who is representing the group, told Mr Mawrey some witnesses had expressed "reluctance" to come to court.
Mr Mawrey is expected to decide later in the week whether those witnesses could give evidence anonymously or whether the court could sit in private.
Previously, the court heard some locals were "too frightened" to come forward.
Four voters, headed by Andy Erlam, who stood as a Tower Hamlets councillor, have mounted a challenge under the 1983 Representation Of The People Act at a special High Court hearing.
Lawyers for the four petitioners have made a series of allegations, including "personation" - where people pretend to be someone else - in postal voting and at polling stations as well as ballot paper tampering.
Mr Rahman, the leader of the Tower Hamlets First party, says there is "little if any" evidence of wrongdoing against him.
His lawyers have described the group's claims as invention, exaggeration and "in some cases downright deliberately false allegations".
The hearing continues.