TV star Elliott Tittensor sued by injured plumber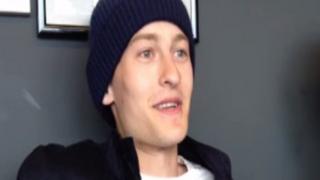 A trainee plumber is suing an actor from the hit TV series Shameless over brain damage and partial blindness suffered in a row over a mobile phone.
Oliver Flint "suffered grave injuries" after being thrown from the bonnet of a BMW driven by Elliott Tittensor, the High Court heard
The pair clashed outside a McDonald's in Kentish Town, north London, in 2010.
Mr Tittensor, 25, of Greater Manchester denies wrongdoing and is defending the claim for more than £300,000 damages.
'He was drunk'
A row erupted on 15 August 2010 when the then 18-year-old Mr Flint's mobile phone battery ran out.
He approached Mr Tittensor - Carl Gallagher in Channel 4's Shameless - who refused to let him borrow his own handset, Mr Flint's barrister Andrew Roy told the court.
Mr Roy told Mr Justice Edis that the actor swore at Mr Flint after being asked to lend his phone for the second time.
When the plumber "responded by swearing back and slamming his hand on the car bonnet", Mr Tittensor "drove forward" and "hit Mr Flint with the front of his car", the barrister said.
William Norris QC, defending, denied his client was in any way to blame for Mr Flint's injuries.
He insisted the plumber was "wholly the author of his own misfortune", having "accosted" the actor's then girlfriend, Skins star Kaya Scodelario.
"He was drunk and... he stood in front of his car and tried to prevent him driving off, banging on the bonnet, then climbing on to it and attacking the windscreen," Mr Norris told the judge.
Following the row, Mr Tittensor, from Heywood, was fined £750 and given six penalty points by Highbury Magistrates' Court.
He admitted driving without insurance, his policy having expired the previous month.
But Mr Flint, now 22, of Balmore Street, Archway, north London, wants the actor to pay him damages for "unlawful battery", claiming he attacked him with his car before fleeing the scene, leaving him badly injured.
Mr Tittensor says he was acting in lawful self-defence.
The High Court hearing continues.