Cyclist killed in Victoria lorry crash identified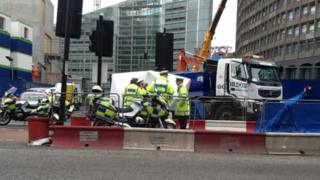 A cyclist killed in a collision with a tipper truck during rush hour in central London has been identified as a 36-year-old French national.
Claire Hitier-Abadie, from Westminster, died at the scene on Victoria Street next to the Victoria Palace Theatre at about 08:00 GMT on Thursday.
Witnesses said the Barclays Cycle Hire bike was crushed under the wheels of the Gordon Plant Hire truck.
The driver stopped at scene. No arrests have been made.